'It sounded so real': Vietnam veteran conned out of $30,000 life savings in tech support scam
Rebekah L. Sanders, Arizona Republic
Breanna Grigsby for (CNT) City New and Talk #phoenix-metro https://phoenixnewsandtalk.com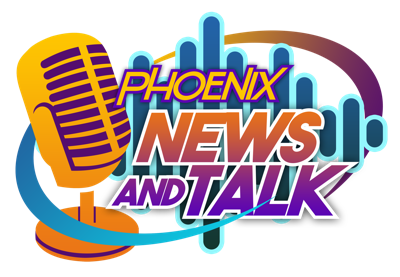 When George Burlakoff received an email last month that he had been charged nearly $500 for a "Windows Smart Solution" subscription for his computer, he was irked.
Like a lot of older folks, the 75-year-old Vietnam War veteran isn't a big computer user and hates to waste money. The cost seemed unreasonable.
So Burlakoff did what he thought was responsible. He called the phone number listed on the email to cancel the "Microsoft" subscription.
The phone call ended up costing Burlakoff his life savings of $30,000.
The scammers who sent the email drew him into an elaborate ruse that involved a sham refund for the fake computer program, accusations that Burlakoff took a larger refund than he was entitled to and a $30,000 wire transfer to Thailand to make up for it.
"Others should watch out for this because it sounded so real," Burlakoff said. "I'm usually not that gullible."
The Sun City West resident says he's angry at himself for falling for the trap and at the scammers "for being scum of the Earth, preying on people."
He also believes employees at his financial institution, Navy Federal Credit Union, could have done more to protect him and potentially other seniors.
Despite his embarrassment, Burlakoff shared his story with The Arizona Republic's Call For Action team in hopes of warning others, he said.
"I don't want anybody else to get ripped off by something this stupid," he said.
If Burlakoff was scammed, anyone can be, said his daughter Christa Lawcock.
A Navy boatswain's mate in the war, Burlakoff drove busses, cut steel, worked in sales and retired from a 20-year real estate career. He was raised by a Jewish mother who used her wits to escape the Nazi Holocaust, Lawcock said.
"He's not a dumb man," Lawcock said. "He's worked hard his whole life."
But Burlakoff doesn't like to ask for help, she said.
"He's very independent," Lawcock said. "It's a big deal to him. He takes pride in that."
Look for tell-tale signs of a scam
The email Burlakoff received Nov. 4 said his "account" had been "debited" $447.89 for a three-year "Windows Smart Solution" subscription. He forwarded a copy of the message to The Republic.
Microsoft does not sell a product called "Smart Solution," but it does sell subscriptions of $69.99 to $99.99 per year for Windows programs such as Word, Excel and Outlook. That product is called Microsoft 365, which customers must opt into.
There were tell-tale signs of a scam that Burlakoff didn't know to look for.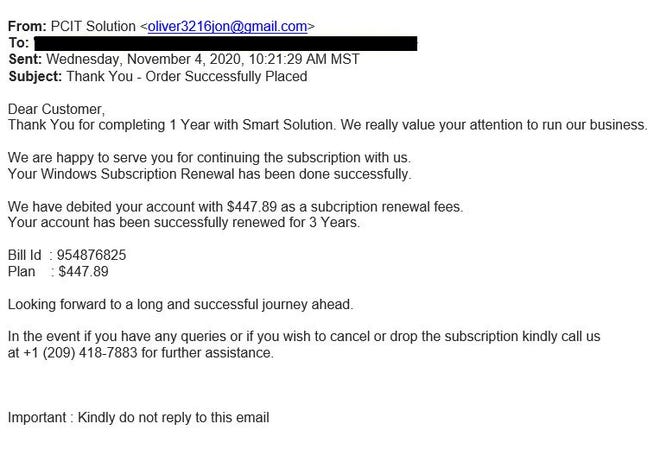 The sender wasn't Microsoft, it was "PCIT Solutions." The email address "oliver3216jon@gmail.com" was a jumble of names and numbers coming through Gmail, not an official company website.
The email also contained several spelling, grammar and punctuation mistakes. They were small enough someone reading quickly might gloss over them.
Microsoft warns about "tech support scams" on its website.
The company does not send unsolicited email messages or make unsolicited phone calls to request personal or financial information, or to provide technical support to fix a computer, the company says. Any communication with Microsoft has to be initiated by the user.
"Tech support scams are an industrywide issue where scammers use scare tactics to trick you into unnecessary technical support services that supposedly fix contrived device, platform, or software problems," the company says. "If you allow them to remote into your computer to perform this 'fix,' they will often install malware, ransomware or other unwanted programs that can steal your information or damage your data or device."
How to avoid the scam
Burlakoff could have called his credit union or checked his online accounts to see that no charges in the amount of $447.89 had gone through.
But to Burlakoff's untrained eye, the email seemed convincing, he said.
"I looked at (the email) and thought, '(The program) might be on my computer,'" Burlakoff recalled. "I don't know. How am I supposed to know if it's on there?"
Fantasy football and email are about all Burlakoff uses his computer for, he said. Any other programs are a bit of a mystery.
"My kids are constantly saying, 'Dad, you gotta do this for your computer,'" Burlakoff said. "It's like, 'OK. You show me how to do this.' I'm not a computer person."
Hoping to ensure a quick refund, Burlakoff called the customer-service number listed on the email: 209-418-7883.
Contacting a phone number or clicking a link in an email from an unknown person can be risky. One way to check for legitimacy is to copy and paste the number or link into Google and see what comes up.
The Republic's online search showed the number Burlakoff called does not appear connected to a business and instead shows up on a website, www.fraudnumber.com, that tracks scam calls.
The customer-service representatives Burlakoff reached seemed typical, he said. Their accents indicated they were likely in another country, he said, and they passed him from department to department, an experience most Americans are familiar with. There was a buzz of people talking in the background like a call center, he said.
"All of the different companies now have their phone services (overseas), so it wasn't a shock to me when they said, 'We're actually in Thailand,'" Burlakoff said.
An employee said he needed to access Burlakoff's computer to remove the software and process the refund.
"Stupid me," Burlakoff said. "I said, 'Fine, take it off my computer.' And I gave them permission to access my computer."
The pressure begins
Soon, Burlakoff saw lots of windows popping up on his screen.
"I was trying to close everything. They wouldn't let me close anything," he said.
The distraction would prove disastrous. Unbeknownst to Burlakoff, his online credit-union account had now been breached.
The customer service representative instructed Burlakoff to type the amount of the $447.89 refund supposedly into the company's banking website to complete the transaction.
A few seconds later, the scammer started yelling, accusing Burlakoff of entering a refund amount tens of thousands of dollars higher than they agreed.
"I said, 'No, I didn't.' He said, 'Oh, yes you did,'" Burlakoff recalled.
The employee told him to check his credit-union account if he didn't believe it.
So Burlakoff opened the Navy Federal Credit Union website and saw his checking account tens of thousands of dollars higher than it should be.
The scammer demanded Burlakoff return the money, at turns appealing to his honesty and threatening him with a lawsuit. The pair went around and around for close to an hour.
"I resisted and resisted and resisted," Burlakoff said. "I kept telling him, 'I'm not sending you anything. I think this is a scam.'"
The employee said he would accept $30,000 that day and the rest the next day, as a show of "good faith," Burlakoff said.
He instructed Burlakoff to label the foreign wire transfer a gift to a family member to avoid business taxes.
Harried trip to his credit union
Burlakoff went to Navy Federal Credit Union in Peoria and asked to speak to someone about a wire transfer.
But because of COVID-19 restrictions, he said no one was available. Instead, Burlakoff was told to complete a wire transfer form outside, where there was no seating except for a planter, and bring it back inside when finished.
Burlakoff said he felt rushed because he was trying to make dinner with his daughter and because of the credit union's limitations on customer visits.
"I wanted to go over my accounts to make sure … that the money there was ("Microsoft's") money," Burlakoff said. But "at that point I'm tired, I'm grumpy. Just let me get the hell out of here."
When he brought the paperwork inside, the teller confirmed the large amount of money in his checking account, Burlakoff said, and noted that the recipient could not access the money for 10 business days.
Those factors were a comfort, he said.
"I figured it must be true if the money is in there," Burlakoff said. And "I have 10 days, if this really is a scam, to stop it."
But later that night, Burlakoff went online to check his credit-union accounts.
He realized, to his chagrin, the hoax. His savings account was nearly empty.
The scammers had transferred his own money, while he wasn't looking, from his savings to his checking to make it look larger than normal and trick Burlakoff into believing he owed "Microsoft" thousands, Burlakoff said.
In the middle of the night, he reached someone at Navy Federal Credit Union and begged to reverse the transfer.
But the employee was doubtful it could be stopped.
The credit union says on its website the "waiting period" for international wire transfers is "5-7 days."
But in fine print, the website says that international wire transfers must be canceled within 30 minutes or they may not be recoverable.
Burlakoff isn't sure why the teller told him the transfer would take 10 days to go through.
Credit union should've done more, daughter says
Navy Federal Credit Union told Burlakoff that it requested the foreign bank return the money, but the foreign bank received no response from the "beneficiary" — the scammers — and so could not "comply with (the) request."
Credit union spokesperson Casey Pelfrey said he could not comment on Burlakoff's case.
"Navy Federal Credit Union is committed to keeping our members' finances secure and regularly work to educate our members on the threat of scams," Pelfrey said. "In addition, we regularly publish information to our Security Center on steps members can take to stay alert and guard against suspicious or fraudulent financial transactions."
His daughter believes the credit union failed to protect its customer.
An elderly man clearing out his account to send $30,000 to Thailand should raise red flags that trigger employees to ask questions to determine if the customer has fallen for a scam, she said.
"For the bank to now say, 'Sorry, you're out of luck' is not sufficient," Lawcock said.
She and Burlakoff believe other safeguards must be improved, as well.
Following the scam, Burlakoff requested transaction alerts on his accounts, he said. But Navy Federal Credit Union didn't send alerts when he paid hundreds of dollars recently to replace a broken refrigerator and fix his golf cart, he said. Instead, Burlakoff received an alert for a 99 cent purchase, he said.
That doesn't make sense, Burlakoff said.
"You are just adding insult to injury," Lawcock said.
Fewer road trips and sporting events for vet
Burlakoff notified the Arizona Attorney General's Office, Federal Trade Commission and FBI but received little help, he said.
He changed his passwords and paid for a computer inspection at Best Buy to prevent future intrusions, he said.
A few days after the scam, Burlakoff tried the fraudsters' phone number again to see what would happen. Burlakoff angrily confronted the person who answered.
"They said it's not a scam, and I still owed them more money," Burlakoff said.
Burlakoff said he will get by on his VA pension and Social Security checks.
"I have to deal with what's in front of me," he said.
He refuses to ask for assistance from his children, Lawcock said, even though "if you needed him, he'd drop everything and come help."
Instead, she expects he will probably take fewer road trips and cut back on tickets to his favorite sports teams, the Arizona Cardinals and Arizona Diamondbacks.
Burlakoff just hopes his experience will save other people trouble.
"How could I not have seen this coming?" Burlakoff said. "I thought it was very plausible that what they were telling me was actually the truth."
How to protect yourself from tech support scams
Tech support scams make you believe that you have a problem with your computer or phone, according to Microsoft and AARP.
You may be redirected to a website, see a pop-up window or the screen may turn blue, warning you of a virus or other problem with your computer and urging you to call a "tech support" number or click a link to receive help. Alternatively, you may receive an email or a phone call from someone pretending to be connected with Microsoft, Apple or a security software company such as Norton or McAfee who claims to have detected an imminent threat on your computer and asks for access to resolve the issue.
If you get an unsolicited call or email from someone who claims to be a tech support provider, hang up or delete the email. Watch for messages that contain bad grammar or misspelled words or that come from email addresses that do not appear professional. Don't rely on caller ID to determine if a caller is on the level. Scammers use "spoofing" techniques to make it look like they're calling from a legitimate number. Don't buy security software from a company you don't know. If the name is unfamiliar, do an internet search to see if it has been linked to scams. Don't call the number in a pop-up virus alert. Real warnings from your operating system or antivirus program will not ask you to call anyone for support. Get rid of a fake virus alert message by shutting down your browser. You can do this on a Windows PC by pressing Control-Alt-Delete and bringing up the Task Manager. On a Mac, press the Option, Command and Esc (Escape) keys, or use the Force Quit command from the Apple menu. Don't open previously closed sites if prompted to do so when you restart the browser after getting a scam pop-up. Don't give remote access to your computer or payment information to someone who contacts you out of the blue. Don't click any links in the pop-up, even to close the window. This could redirect you to a scam site or launch a "dialogue loop," continually serving pop-up messages. Beware of people who tell you to pay with a gift card, cash-reload card or wire transfer. Don't give financial information to someone who calls a few days, weeks or months after you've made a tech support purchase and asks if you were satisfied. It's probably a refund scam. If you say "No," the caller will ask for bank or credit card information, ostensibly to deposit a refund in your account but actually to steal from you. Keep your security software, browser and operating system up to date and consider using your browser's pop-up blocker. Use antivirus software to regularly scan your computer for malware and run a scan immediately after getting a scam pop-up. Contact a computer technician you trust if you think there might be a genuine problem with your machine. Contact your credit-card company and request a reversal of the payment if you've been victimized. You'll also want to look for other unauthorized charges and ask for those to be reversed as well.
How to report a tech support scam
You can report tech supports scams to:
Federal Trade Commission: https://reportfraud.ftc.gov Arizona Attorney General: https://www.azag.gov/complaints/consumer Microsoft: https://www.microsoft.com/reportascam Apple: Email reportphishing@apple.com Call the AARP Fraud Watch Network Helpline: 877-908-3360
Got a problem? Azcentral.com can help
Have you been ripped off? Do you have a complaint against a business, health care company or government agency? If you live in Arizona, The Arizona Republic/azcentral.com can investigate. We're #HeretoHelpAZ.
We saved consumers more than $560,000 in 2019.
Fill out a form at http://heretohelpaz.azcentral.com.